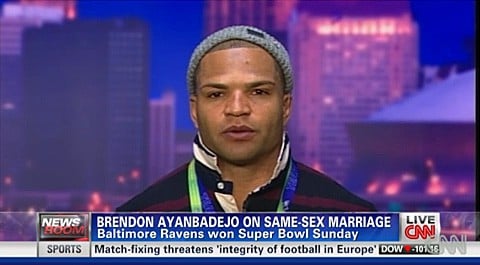 Brendon Ayanbadejo gave an AMAZING interview to Don Lemon yesterday on CNN, fresh off his Super Bowl victory. I've transcribed some of his remarks below.
Check it out, AFTER THE JUMP…
"I don't consider it gay rights. I just call it rights. Everyone deserves to be treated equally, said Ayanbadejo, kicking off a discussion about his advocacy for marriage equality, Chris Culliver's remarks, what he thinks about people that call being gay an abomination, and the other straight athlete allies working to bring acceptance of LGBT people to sports."
"Now that I'm a Super Bowl champion now my voice just projects that much further and hopefully it can lead to more change and more positive things for the LGBT community," says Ayanbadejo.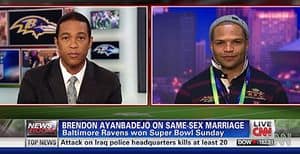 He adds:
"Everyone's been talking to gay people their whole lives whether we know it or not. We really believe that you're born gay. I've had plenty of conversations with people that are gay and they say they are born gay, no different than me being born this beautiful almond coconut color that I am. People are born gay. So why treat them any differently? It's time that we treat everyone fairly. And not only are we trying to dictate who people should love. We're also trying to dictate who people should be. If a woman wants to wear a man's clothes or a man wants to wear a woman's clothes or you feel like you're a woman on the inside and you're really a man. Who cares? Let's just treat everybody equally. Let's move on. Let's evolve as a culture, as a people."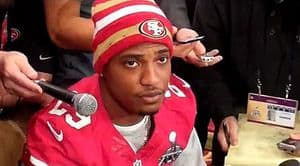 When asked about Chris Culliver's remarks, Ayanbadejo said that's what he's working to change and that Culliver is young and he'll learn:
"I think more than anything it's going to be a learning experience for him…We have to start talking about this issue. There's groups like Athlete Ally, and myself, Chris Kluwe, Scott Fujita. We're all about inclusiveness in sports and treating everyone equally…It's unfortunate that he made the comments. I know he's sorry for them, and I know he's gonna make it right when he gets the opportunity to do so."
And what of people who say being gay is an abomination?
"I say that this Constitution gives you the right to believe in whatever you want to believe in…Don't use those same rights to disenfranchise others."
Ayanbadejo says he does not know any closeted players but says he's working with other allies so that when a player does decide to come out he'll have help:
"When our Jackie Robinson does come out he's going to have a supporting cast around him."
Do not miss this interview.
Check it out, AFTER THE JUMP…