A man has been charged in one of the four recent murders of gay men in NYC, the NY Daily News reports: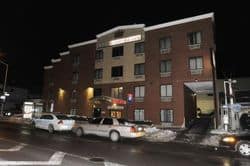 The victim, Joseph Benzinger, 54, of Middle Village, was found with a shirt wrapped around his neck Saturday night in a room at the Crown Motor Inn on Queens Boulevard.
Lleuyel Garcia of Manhattan was charged early Thursday with his murder and robbery.
Benzinger and Garcia had a sexual relationship prior to the killing, cops said.
A police source said Garcia stole the victim's wallet and cell phone and that detectives use cell phone records to track the suspect down. Garcia implicated himself in the crime by admitting he was at the motel, the source said.
Community leaders this week expressed concern about the series of killings and urged gay men to use caution when meeting people online.