In the first case of its kind, the deceased gay spouse of a military veteran is receiving burial in a national cemetery, CNN reports: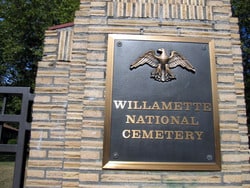 "I am deeply grateful to my country for honoring and respecting my years of service and my relationship with Nancy, the love of my life," said retired Lt. Col. Linda Campbell, a veteran.
"Willamette National Cemetery is a beautiful, peaceful place. Knowing that Nancy and I can join my parents on that hallowed ground is a source of great comfort and healing," she said.
Nancy Lynchild, Campbell's partner, died in December of metastatic cancer.
The cemetery is located southeast of Portland, Oregon.
The Department of Veterans Affairs released a statement, saying Secretary of Veterans Affairs Eric K. Shinseki used his discretionary authority in the case.
"This was the first non-Veteran partner of the same gender he was asked to consider, this is the first he has approved. It's important to note that the Secretary did not base his decision on the individual's marital status or state recognized relationship status, but rather based it, in part, on evidence of a committed relationship between the individual and the Veteran," it read.
The decision does not represent an official change in policy, according to CNN.
However, last week, outgoing Defense Secretary Leon Panetta announced that new benefits would be extended to families of servicemembers to nearly the extent allowable by current law. These benefits would include the right to burial in a national cemetery.
The announcement triggered an ugly response from the Family Research Council, which was upset that gay corpses might spoil the "hallowed ground" of a military cemetery.