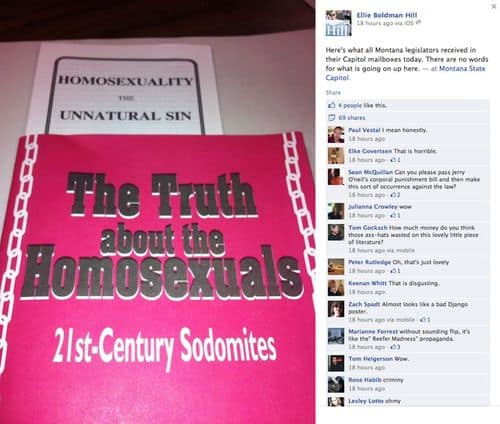 Montana Rep. Ellie Boldman Hill (D-Missoula) posted the above photo to her Facebook page, saying:
"Here's what all Montana legislators received in their Capitol mailboxes today. There are no words for what is going on up here."
Hill's post comes as the Montana legislature considers yet again a bil to remove an unconstitutional statue criminalizing homosexuality from its books.
Montana is one of four states, along with Kansas, Oklahoma, and Texas, that still have laws on the books specifically outlawing gay sex. Ten more states—Idaho, Utah, Michigan, Virginia, North Carolina, South Carolina, Louisiana, Mississippi, Alabama, and (obviously) Florida—maintain a blanket prohibition on sodomy for persons of all sexual orientations.
The state Senate voted on Wednesday by a 38-11 vote to decriminalize it, but the bill, and another anti-discrimination bill, stand little chance of making it through the House Judiciary Committee:
Another bill before the legislature would extend the state's anti-discrimination protections to gays and lesbians for the first time—a more substantive reform that advocates hope would serve as a bulwark against bullying.
But neither proposal stands much chance of becoming law in 2013. As the Billings Gazette notes, a bill to eliminate the sodomy statute passed the Senate in 2011 only to fail in the house. "We are expecting this bill to go to House judiciary, which is a very ideologically driven committee, and we expect it to die in that committee," says Jamee Greer, a lobbyist for the Montana Human Rights Network, an LGBT equality group. "They're not showing a lot of respect to the LGBT community and I don't expect them to pass 107."