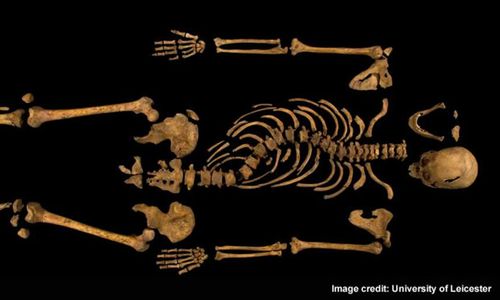 The remains of King Richard III, who died in 1485 at the Battle of Bosworth, have been identified. They were discovered under a car park in Leicester, UK.
Tests have established that a skeleton found under a car park in Leicester is that of Richard III, king of England from 1483-85. Richard Buckley, the lead archaeologist on the project at the University of Leicester, said that his team had proved "beyond reasonable doubt" that the bones were those of the last Plantagenet king.
DNA evidence from the skeleton matches with that from Michael Ibsen, a Canadian who is a direct descendent of Richard's sister Anne of York. In addition, evidence of battle wounds on the skeleton, and features of the remains such as their curved spine, provide a "highly convincing case" for this being Richard, Leicester's Dr Jo Appleby said.
His death was probably caused by one of two injuries to the base of the skull, both inflicted with a bladed weapon, Appleby said.
Richard's body will be reinterred in Leicester Cathedral, probably early next year. A temporary exhibition will open there on 8 February, followed by a permanent visitors' centre telling the story of Richard's life and death. A £10,000 donation for a new tomb for the monarch has already been received by the Richard III Society.