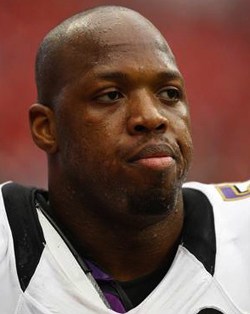 Earlier this week, San Francisco 49ers cornerback Chris Culliver was vocal about his feeling that he does not welcome gays in the NFL or the locker room. He later issued a statement and said he was "apologetic."
One of Culliver's opponents during this Sunday's Super Bowl has a far more enlightened stance. Pro Football Talks asked Baltimore Ravens outside linebacker Terrell Suggs if he would have an issue with having a gay teammate. His response? "Absolutely not."
Suggs went on to say:
"On this team, with so many different personalities, we just accept people for who they are and we don't really care too much about a player's sexuality. To each their own. You know who you are, and we accept you for it."
Meanwhile, The Trevor Project announced today that Culliver will work on the organization's educational training program. Their press release reads in part: "It is with this concept in mind that Chris has unilaterally reached out to The Trevor Project to seek guidance and education about the LGBTQ community through The Trevor Project's renowned Trevor Lifeguard Workshop LGBTQ Training Program."
Read the full release, AFTER THE JUMP
San Francisco 49er Chris Culliver to Commence LGBT Educational Training Program with The Trevor Project
SAN FRANCISCO, Feb. 2, 2013 /PRNewswire/ — Chris Culliver, cornerback for the San Francisco 49ers, recently made hurtful, hateful, homophobic comments about gay athletes playing in the NFL. Chris immediately issued both a written and publicly communicated apology for his remarks; however, Chris recognizes these apologies neither excuse his statements nor sufficiently convey Chris' remorse for the situation he created, and the people he offended. Regardless of what has been and what undoubtedly will be said about Culliver's comments and his subsequent mea culpa, the simple fact remains: action expresses priorities. It is with this concept in mind that Chris has unilaterally reached out to The Trevor Project to seek guidance and education about the LGBTQ community through The Trevor Project's renowned Trevor Lifeguard Workshop LGBTQ Training Program.
Rather than attempt to downplay the severity of the issue at hand, or shy from the situation in the interests of mitigating damage to his reputation, Chris intends to embrace this ordeal as an opportunity to learn and grow as a person. The Trevor Project is the nation's leading national organization providing crisis intervention and suicide prevention services to lesbian, gay, bisexual, transgender and questioning (LGBTQ) young people, ages 13-24. The Trevor Project, however, is not only a resource for LGBTQ youth in crisis, but also for the adults who care about the LGBTQ community. Surprisingly, Chris has gay family members and close friends for whom he cares deeply. Chris's cousin, Andrew Brown is one of the celebrated directors of Word Is Out, the first feature-length documentary about lesbian and gay identity made by gay filmmakers; an iconic film for the emerging gay rights movement in the 1970s. Brown has come forward in support of Chris and his efforts to educate himself about the true impact of his commentary.
The Trevor Project offers age-appropriate education programs to help people of all ages learn more about the unique challenges faced by youth who are lesbian, gay, bisexual, and transgender, and those who question their sexual orientation, gender identity. Lauren McGinnis, Communications Director for The Trevor Project, expressed the following sentiment: "We really feel that education about LGBT youth and the challenges they face is a great way to get [Chris] started on the right path, especially since he's a role model and there are kids all over the country with his poster on their wall, his jersey – his fans that take his words and actions to heart." The Trevor Project in no way condones, accepts, or attempts to validate Chris' comments; however, The Trevor Project looks forward to working to help Chris become a better role model for his fans and the general public. Both Chris and The Trevor Project recognize it will be a long road to genuine understanding, but both are eager to use this experience as an opportunity to take steps towards eradicating this type of ignorance in the NFL and in society as a whole.
In Chris' own words, "As an African American male, I should know better. Hate and discrimination have a lasting effect, and words matter. I also have a responsibility to myself, and especially to my young fans to be a better role model. The kids who look up to me and other athletes are the future of our country, and our future deserves better than fear, hate and discrimination… I was wrong, and I want to learn how to make it right. That's why I reached out to an organization called The Trevor Project… No child should ever feel like they are less than anyone else, and God has put me through this storm so I can learn from my mistakes and help make sure no child has to feel that way, again."
In the weeks immediately following Super Bowl XLVII, Chris will be working with The Trevor Project staff and volunteers to learn about the risks that LGBTQ youth face and how Chris can do his part to reduce those risks. The Trevor Project has partnered with other notable athletes and celebrities, such as Shaquille O'Neil, Lady Gaga, Daniel Radcliffe, and Queen Latifa, among others, to help disseminate tolerance and understanding for the LGBTQ community. The Trevor Project is thus the perfect organization to educate Chris about how to use his celebrity status to empower youth to know that they have value and deserve a chance to live and be who they dream to be, regardless of sexual orientation or gender identity. Chris, like the rest of the resilient 49ers, believes the true content of one's character is revealed in times of adversity. As such, Chris is determined not to hide from this crisis, but rather to take the actions necessary to make it right.
FOR MORE INFORMATION CONTACT:
Theodore Palmer – Publicist – Creative Edge Public Relations – (646) 575-2967 – TPalmer@creativeedgepr.com