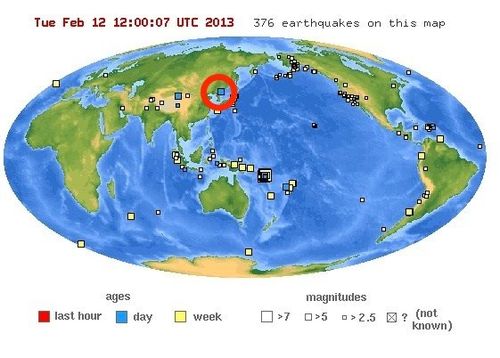 The international community reacted swiftly after a false earthquake in North Korea was confirmed to be a long-threatened third nuclear test, the NYT reports: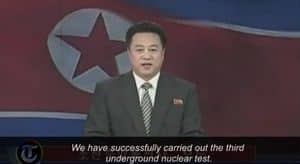 The KCNA said it used a "miniaturized and lighter nuclear device with greater explosive force than previously" and that the test "did not pose any negative impact on the surrounding ecological environment."
The test drew a crescendo of international condemnation Tuesday, with President Obama calling it a "highly provocative act" that demands "swift and credible action by the international community" against North Korea. Russia, Britain, South Korea and the United Nations similarly quickly condemned the blast. The head of the international nuclear watchdog called the test "deeply regrettable"and the United Nations Security Council scheduled an emergency meeting at 9 a.m. New York time to take up the matter.
Preliminary estimates by South Korea suggested the test was much more powerful than the previous two conducted by the North.
The map at top shows the "earthquake" recorded early Tuesday. North Korea confirmed a "successful" nuclear test on State TV.
Watch, AFTER THE JUMP…