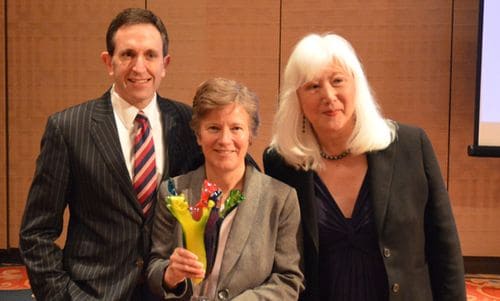 On Saturday, the American Bar Association recognized three attorneys with the first-ever Stonewall Award at a  ceremony at the ABA Midyear meeting in Dallas.
The award recipients are as follows:
Mary Bonauto (center), civil rights project director for the New England-wide Gay & Lesbian Advocates & Defenders since 1990, has worked on nearly every facet of the legal movement for equality under law for gay men, lesbians, bisexuals and transgender individuals.  Best known for her work on marriage and the Defense of Marriage Act, she served as lead counsel on the 2003 landmark case Goodridge v. Dept. of Public Health, which legalized same-sex marriages in Massachusetts.
Matt Nosanchuk is an attorney with substantial experience working on constitutional and civil rights issues in all three branches of government, in private practice and at non-profit organizations, throughout his career.  Nosanchuk joined the Obama administration in 2009 as senior counselor in the U.S. Department of Justice Civil Rights Division, where he provided leadership on LGBT, policy and legislative issues and congressional oversight.
Mia Yamamoto, a Vietnam combat veteran and private practitioner since 1984, serves on the board of the National Asian Pacific American Bar Association, Criminal Courts Bar Association and International Bridges to Justice, which provides due process education to the judicial systems of China, Thailand, Vietnam and Cambodia.  This year she was honored by the Los Angeles County Human Relations Commission for her advocacy on behalf of the LGBT community.  She also received the Harvey Milk Legacy Award from Christopher Street West/LA Pride 2012.
The award recognizes attorneys who have advanced LGBT individuals in the legal profession, and championed LGBT causes.