South African double-amputee Olympic sprinter Oscar Pistorius was arrested and charged with the murder of his girlfriend this morning, the Guardian reports: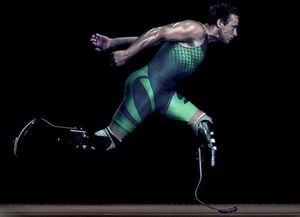 South African star sprinter Oscar Pistorius has been charged with the murder of his girlfriend and will appear in a Pretoria court on Thursday afternoon, police have confirmed. Pistorius, 26, is alleged to have killed his 30-year-old girlfriend Reeva Steenkamp, who died of gunshot wounds at his home in a gated-community in the city this morning.
Police spokeswoman Denise Beukes said earlier reports that the suspect had been surprised by his girlfriend and had thought she was an intruder did not come from police. She said there had been reports from neighbours of shouting and screaming coming from the house earlier in the evening. She said police had been called to the house on previous occasions after reports of "a domestic nature"…
…There was speculation in the local media that Pistorius may have mistaken his girlfriend for a burglar and the shooting could have been a result of a Valentine's Day surprise gone wrong…
…In the last 24 hours she was tweeting about her hopes for Valentine's Day, writing: "What do you have up your sleeve for your love tomorrow??? #getexcited #ValentinesDay." In one of her last tweets she responded to one follower who said she was going to make her husband a card with her children. Steenkamp wrote: "That sounds amazing! Wow that's what it's all about! It should be a day of love for everyone 🙂 may it be blessed!"
Oscar Pistorius charged with murder after girlfriend shot dead [guardian]