South Africa is set to launch a branch of the 'It Gets Better' project tomorrow, and Olympic sprinter Oscar Pistorius had recorded a video for the campaign.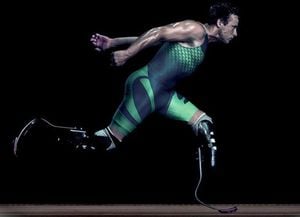 That will no longer be part of it, given the murder charges he is facing:
In his video, which will no longer be included in the campaign, Pistorius said: "Just remember that you're special. You don't have to worry. You don't have to change. Take a deep breath and remember 'It will get better'."
Richard Freedman, the director of the SA Holocaust and Genocide Foundation, said the public was invited to film their own anti-homophobia videos at the Cape Town Holocaust Centre on March 14 and 17.
Athletics Gauteng North general manager Walter Vilakazi said there had been no objections to Pistorius being awarded the track and field male athlete of the year title on Saturday night. H e said the period taken into account was January to December 2012.
"We have a [committee] that recommends athletes who have excelled," he said. "This all happened before the unfortunate situation. If we do withdraw the award, what reasons do we use?"
Pistorius appeared in court today and denied murdering his girlfriend, the NYT reports:
"I fail to understand how I could be charged with murder, let alone premeditated," he said in an affidavit read to the packed courtroom by his defense lawyer, Barry Roux, "I had no intention to kill my girlfriend."
His assertion contradicted an earlier accusation from the prosecutor, Gerrie Nel, that Mr. Pistorius committed premeditated murder when he rose from his bed, pulled on artificial legs, walked more than 20 feet from his bedroom and pumped four bullets into the door, three of which struck his girlfriend, Reeva Steenkamp, on the other side.
It was the first time that either the prosecution or Mr. Pistorius had publicly provided details of their radically divergent accounts of a killing that has shocked the nation and made news around the world.