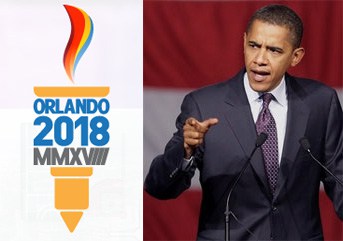 The City of Orlando got a boost from the White House in its bid to host the 2018 Gay Games, the Washington Blade reports:
"I am pleased to voice my support for the City of Orlando's bid to host the Gay Games 2018," the president said in a letter to Orlando 2018, the organization working on the bid.
"As President of the United States, I am committed to advancing equality for the Lesbian, Gay, Bisexual, and Transgender (LGBT) community, both in America and around the world," he said.
Mikael Audebert, project director for Orlando 2018, said Obama's endorsement letter is believed to mark the first time a U.S. president has expressed support for the Gay Games or any LGBT event of that size.
Watch Orlando's bid video, AFTER THE JUMP…