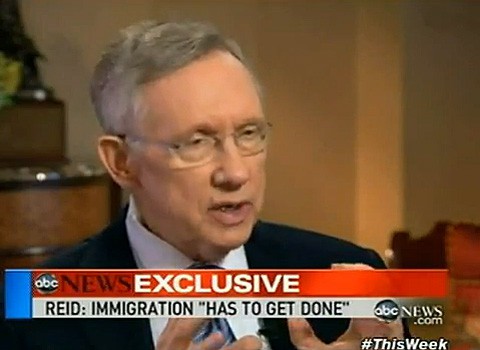 Steve mentioned this interview in his round-up yesterday but I thought I'd post the clip of Harry Reid telling George Stephanopoulos that same-sex families need to be included in immigration reform.
GEORGE STEPHANOPOULOS (HOST): One of the other big issues, the President said he wants gay and lesbians to be able to have a family preference. Senator McCain has said we shouldn't come up with legislation for what he calls social issues.
REID: If we have gay folks in this country who have children, or they come from some other place they should be protected just like any other child.
STEPHANOPOULOS: That's the position the Republicans are saying that's too heavy to lift.
REID: If they're looking for an excuse not to support this legislation, this is another one, but the American people are past excuses. They want this legislation passed.
Watch, AFTER THE JUMP…
Meanwhile, Senator John McCain is trying to do just that:
But congressional Republicans immediately condemned the idea and warned that the measure imperils broader immigration reform. Sen. John McCain (R-Ariz.), one of the senators on the eight-member bipartisan working group on immigration, said at a Politico breakfast last week that injecting social issues into the debate over immigration legislation "is the best way to derail it."
"Which is more important: LGBT or border security?" McCain said, using an abbreviation for people who are lesbian, gay, bisexual or transgender. "I'll tell you what my priorities are."