Rick Santorum says allowing gay scouts and leaders into the organization will destroy it.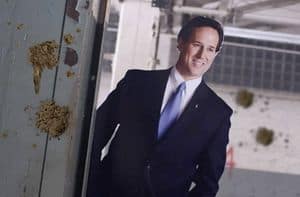 "Wednesday's vote is a challenge to the Scouts' very nature and is another example of the left attempting to remove God from all areas of public life," warns Rick Santorum in a World Net Daily column on plans this week by the Boy Scouts to drop its ban on gay scouts and scout leaders.
He adds:
"Scouting prepares boys and teenagers to be virtuous men in a world that desperately needs men who are brave enough to stand up for those principles, to live by the moral code of the Scout Oath and Law and hold themselves to that standard – whether at the schoolyard or in the boardroom. Scouting may not survive this transformation of American society, but for the sake of the average boy in America, I hope the board of the Scouts doesn't have its fingerprints on the murder weapon."
The Boy Scouts this morning were set to receive more than 1.4 million petitions calling for an end to the ban.
Today, the Family Research Council and other hate groups took out a full-page ad in USA Today urging the BSA to retain its anti-gay policies.
President Obama weighed in during a 60 Minutes interview that ran before the Super Bowl, saying that the Boy Scouts should allow gays to join its organization . Said Obama: "My attitude is that gays and lesbians should have access and opportunity the same way everybody else does, in every institution and walk of life."