Figure skater Johnny Weir is a self-described 'Russophile' so the country's proposed ban on gay "propaganda" (already passed in St. Petersburg) won't stop him from competing in the Sochi Winter Olympics, but he's warning other gay athletes not to do certain things or suffer the consequences, USA Today reports: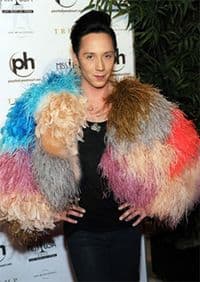 If he makes the Olympic team, Weir doesn't want to make an issue of his sexuality, he said. For him, the Olympics should be about sport and competition. But he does have advice for gay athletes unfamiliar with the culture.
"My advice would be: Watch what you do when you leave the Village, don't be aggressive, don't wear a big rainbow flag fur coat. If you don't call attention to yourself, attention won't come to you."
Then Weir added, in a way only he can, "I'm not going to be having sex in a Metro station. And if you are doing that, then maybe you deserve to be caught."
Added Weir: "I love Russia and there is nothing that will change that. I'm a true patriot and spokesperson for their country. It's appalling they can censor their public, but I try to do everything I can. I have been in talks with different LBGT organizations in Russia with how I can help."
Out speed skater Blake Skjellerup is more hesitant: "I don't want to have to tone myself down about who I am. That wasn't very fun and there's no way I'm going back in the closet. I just want to be myself and I hate to think that being myself would get me in trouble."
St. Petersburg's restrictive law bans and impose fines ($16,000 on individuals and up to $160,000 on legal entities) on all Gay Pride events, LGBT organizations, and anything considered to be "promotion" of homosexuality.
The federal law, if passed, would enact similar penalties.