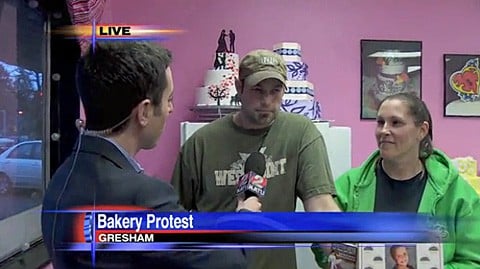 Sweet Cakes, the Oregon bakery which refused to bake a cake after they found out it was for a lesbian's wedding, was the target of a protest on Saturday, KATU reports:
Dozens of people showed up outside Sweet Cakes by Melissa Saturday afternoon to voice their opposition to Aaron Klein's decision not to make the cake. "That's wrong. That's a crime in Oregon," said protester Rob Cochran. "I need to let people know if you're going to do that as a business, there are going to be consequences."
Meanwhile, the business is experiencing the Chick-fil-A effect — its bigoted Christian supporters are coming out in droves to support it.
Oregon Attorney General's civil enforcement officers are looking into whether Klein broke the law by discriminating.
Watch video of the protest and interviews with Klein and customers, AFTER THE JUMP…