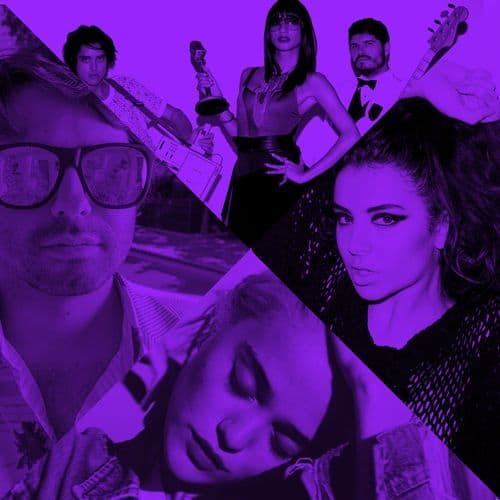 BY OCCUPY THE DISCO / RU BHATT
The OXD Mirror is a weekly music column brought to you by the boys of OCCUPY THE DISCO (OXD), a New York City based collective created by three music lovers, Ru Bhatt, Josh Appelbaum, and Tadeu Magalhães, who want to share their love for disco, house and dance music with the world. 
Sky Ferreira – Everything is Embarrassing (Krystal Klear Remix)  
Sky Ferreira is a young American singer, songwriter, model and actress, who grew up in California with family friends like Michael Jackson hanging about during the holidays (how's that for a musical influence?). While we are still waiting for a debut studio album from the 20-year-old, 'Everything is Embarrassing' has been gaining lots of buzz, no doubt partially because of its hot producer, Devonte Hynes (the mastermind behind Solange's 'Losing You'). This brand new remix, by UK-based Krystal Klear gives the original song a nice 90's style house groove, making the song much more dancefloor friendly.
Viceroy – 'Dream of Bombay'
After wowing us with a steady stream of remixes and original songs in 2012, Viceroy ropes in Australian chanteuse Chela for the vocals on 'Dream of Bombay,' his first original release of 2013. The San Francisco-based producer stays true to form as he imbues this track with dripping sunshine and includes electro-pop elements, providing the perfect escape from your winter doldrums.
Hot Natured feat Ali Love – Benediction
Hot Natured released this massive tune in October of last year, but it wasn't until I heard NYC-based production duo Donkey's first mixtape that I finally was able to identify that song that I was hearing everywhere. Producer Jamie Jones teams up with fellow Hot Creations label co-founder Lee Foss (who produced 'Electricity' from my last Mirror) and Luca C to create a dance anthem full of italo synths and classic drums that effortlessly highlight Ali Love's seductive vocals. The song's catchy lyrics celebrate the feeling of domestic bliss we all deserve to cherish.
Charli XCX – You Ha Ha Ha (Goldroom Edit)
Los Angeles-based Goldroom (née Josh Legg) drew inspiration from the lyrics of Charli XCX's latest single to create my favorite type of song: the heartbreak-infused dance anthem. It's obvious why songs like these especially resonate with gay audiences–we've all been there. Goldroom manages to capture that feeling and produces a delicate, beautiful song that is perhaps better off enjoyed alone.
Jessica 6 – In The Heat (EL!OT Remix)
Eliot's epic 80's style treatment of Jessica 6's 'Prisoner of Love' earned it's own spot in my top 10 songs of 2012 so it should come as no surprise that I'm excited to see him tackle another Jessica 6 track, which will be included in the forthcoming remix album See The Light (The Remixes). Eliot continues with the 80's style here a bit albeit with strong tropical influences. While Jessica 6 has yet to announce details about their next album, learning that Eliot has joined the band has me very excited for what lead singer Nomi Ruiz has in store for us.
MORE NEW MUSIC, AFTER THE JUMP…
Chordashian – Cold Nights
Brooklyn-based Chordashian's somewhat ironically titled 'Cold Nights' borrows vocals and melodies from Lana Del Rey's 'Summertime Sadness,' adds electric synths and funky marimbas, and creates an energetic house gem that will keep you feeling warm on these wintery nights.
Bicep – 'Mixxmaster 88'
Belfast-based Andrew Ferguson and Matthew McBriar picked up a pair of turntables in their teens, collected a lot of records, and played countless DJ gigs before realizing they need create their own sound and, therefore, formed Bicep. With 'Mixxmaster 88,' Bicep draws from familiar 80's analog house sounds and samples to create an original yet incredibly nostalgic song that is sure to inject energy onto any dancefloor. The song, which is only available on vinyl so far, is perhaps best described in Bicep's own words: "Call it an edit, a mashup, an adaptation, a party jam… just call it Mixxmaster 88."
Makam – What Ya Doin'
I discovered Makam's 'What Ya Doin'' via Duke Dumont's Essential Mix for BBC Radio 1, and was at first surprised it wasn't a Dumont production itself. With it's infectious beat and Chicago house elements, it almost sounds like an extension of Dumont's 'The Giver.' Makam borrows a vocal sample from Ciara's 2006 hit, 'Promise,' and lowers the pitch (as is the trend these days) to create a veritable club banger that is sure to get your feet moving.
OCCUPY THE DISCO (OXD) curates and recommends music events to the gay community in NYC—in an effort to move the focus of the nightlife scene beyond the promoter and venue and to the music itself. OXD's goal is to educate, entertain, engage and empower the gay audience to reclaim their ability to question and experience the unknown. The OXD Mirror will serve to showcase tunes that are definitely off-the-beaten-path but rightfully deserve the attention of the gay ear. It's music that will make you dance, dream, and most importantly, love.
This week's post was written and curated by Ru Bhatt. Check out more of his music picks on his podcast, The Ru-Mix.

For more information on OXD, check out our website and accompanying blog at www.occupythedisco.com, like us on Facebook, or follow us on Twitter: @OccupyTheDisco.