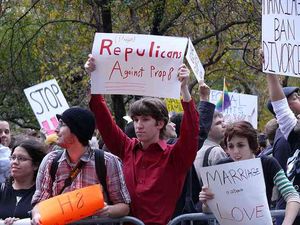 BY SAM GREISMAN
A look back at today's top stories
GAY ISSUES
As we close in on the date that the Supreme Court will hear arguments in the Proposition 8 case, more than 75 leaders of the Republican Party have signed a brief that urges the court to rule in favor of gay rights. In addition a number of pro-equality companies have announced that they will also be petitioning the court. Ari Waldman looks at what this (and the plaintiff's brief) means for a potential filing from President Obama. 
In a display of what brotherly bond is all about a Boston area fraternity is attempting to raise money for one of their transgender frat brothers. Also a gay couple from Israel has turned to the internet for help in overcoming the country's ban on surrogacy. 
**
WINGNUTTERY
The Westboro Baptist Church is having a rough go of it in the Los Angeles area. First they were out-protested in Santa Monica and now a reporter totally dominates a group of them in Malibu. Their partner in hate Pat Robertson is ready to stand up and fight against the nearly insurmountable evil that is the Goodwill store. The preacher from the anti-gay megachurch that Tim Tebow spurned is appalled that saying everyone should believe the same thing he does, can be considered discrimination.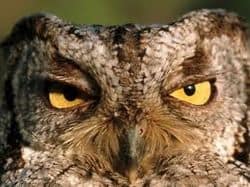 Also rapper A$AP Rocky says he doesn't care if people say he is gay because he gets mad bitches and they are just jealous. Spoken like a true middle schooler. 
**
VIDEOS OF THE DAY
From a grumpy cat to an ashamed bear, animals never hold back their true emotions. 
Father Tiger shows us that eating contests are much sexier than we originally thought. And Tilda Swinton joins David Bowie in his awesome new video!