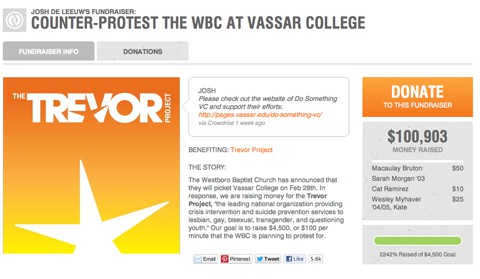 Vassar College has raised more than $100,000 in response to a planned protest today by the Westboro Baptist Church.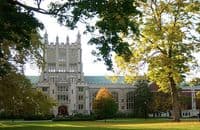 When the WBC announced its picket, Josh de Leeuw '08 organized a fundraiser with the goal of raising $4,500.
The Westboro Baptist Church has announced that they will picket Vassar College on Feb 28th. In response, we are raising money for the Trevor Project, "the leading national organization providing crisis intervention and suicide prevention services to lesbian, gay, bisexual, transgender, and questioning youth." Our goal is to raise $4,500, or $100 per minute that the WBC is planning to protest for.
The response, as you can see, was more than enthusiastic, attracting thousands of donors.
As a proud '89 Vassar alum, I salute them (as do fellow VC alums Andrew Belonsky and Naveen Kumar, who write for this site).