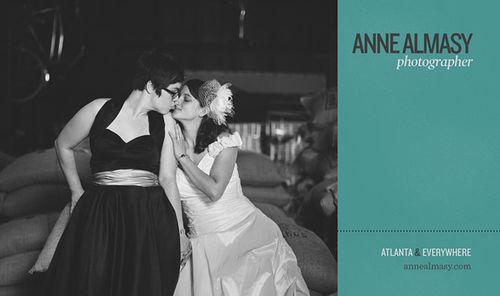 Wedding photographer Anne Almasy submitted the above photo as an ad in Weddings Unveiled magazine. She received the following reply:
Is there possibly another photograph you'd like to use in your ad? We just don't feel comfortable publishing an ad featuring a same-sex couple. These aren't our personal beliefs, of course, but, you know…
After some outcry (things can happen quickly when outrage catches fire), the magazine has relented. Their latest reply.
We are Terri and Brooke, the publishers of Weddings Unveiled Magazine. We hope that you will allow us the opportunity to address an important issue that has angered and disappointed many people. We are incredibly sad that same sex marriage is still an issue in our society. When we were faced with the decision of whether or not to publish Anne Almasy's advertisement, we acted in a manner that does not reflect our personal beliefs. We truly believe that all love is beautiful and that all people have the right to marry. You might ask that if we feel that way, then why did we make this decision? Honestly, we knew that everyone would not share our belief that all people have the right to marry. The issue is very sensitive and it is also very divided. We knew that it was possible that people would be offended if we published the ad and we knew that it was possible that people would be offended if we did not. We are so sorry that we acted out of fear and uncertainty. We had never been faced with such a decision and we should have acted with our hearts.
We are two women who operate a small business that we care deeply about. We love all weddings. We love all people and would never want to anger, offend or disappoint anyone. We are deeply moved by the outpouring of love and support for Anne. We are so sorry that we have disappointed you and we ask for your forgiveness. If Anne would still like to run her ad in Weddings Unveiled, then we would be proud to publish it.
Read the full ordeal here.