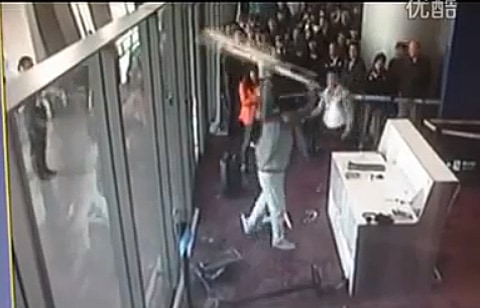 Yan Linkun,  a member of the Chinese People's Political Consultative Committee (CPPCC) from Shizong county, Yunnan Province, did not react well after he missed his plane last week. Yan had gone to have breakfast after purchasing his ticket but did not make it back in time to board.
He then destroyed everything in sight.
The Global Times reports on the clip, which is all over Chinese news:
After an official investigation, the man in the video was confirmed to be Yan Linkun, a member of the CPPCC Committee of Shizong county and vice chairman of the Guangdong Yunnan Mining Company under the Guangdong Fengle Group.
Yan said that he was anxious to send his children to school in Shenzhen after missing two flights and he lost control after airport staff rejected his request for late boarding. Yan made an apology to the airport and netizens on Saturday.
Zhang Dahong, the general manager of Yunnan Mining Industry Company, said on Sunday that the group had decided to suspend Yan, and local police are also conducting an investigation.
Watch, AFTER THE JUMP…