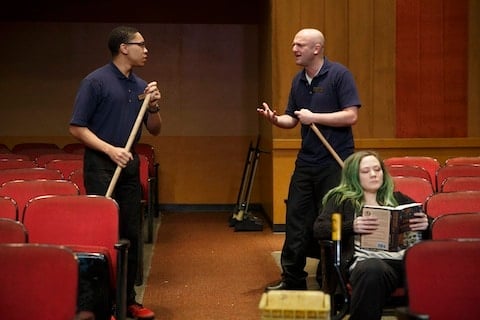 BY NAVEEN KUMAR
A lot of stories get told in movie theatres—but none quite
like Annie Baker's subtly artful behind-the-scenes drama about three employees
at a run-down single screen movie house. The
Flick, which opened Off Broadway Tuesday at Playwrights Horizons, attends
to what happens between screenings when the illusion is over, lights come
up—and somebody has to clean up the mess.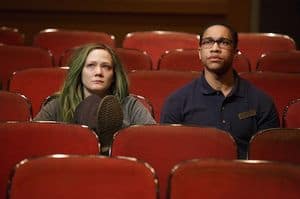 Directed with an appropriately ambling precision by Baker's
frequent collaborator Sam Gold (Uncle
Vanya, The Aliens), the play is staged among about a dozen rows of movie
theatre seats (a meticulously detailed set by David Zinn), so that the audience
sits in place of the screen. Other than occasionally stumbling upon a
particularly gnarly food spill, a majority of the action on stage consists of
characters sweeping popcorn off the floor.
A seasoned employee of the Flick, Sam (Matthew Maher) shows young
rookie Avery (Aaron Clifton Moten) the ropes on his first day. Sam is what you
might call a lifer — 35, living in his parents' attic, longing to be
promoted into the projection room. A reserved, fastidious movie buff home on an
extended break from college, Avery's job at the plex seems temporary by design.
Rose (Louisa Krause), a twenty-something with baggy clothes and dyed green
hair, works the projector and completes what develops into a clumsy sort of
love triangle.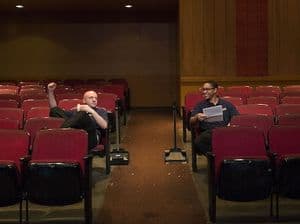 A young, critically acclaimed playwright, Baker has become
known for her intricate hand at crafting characters whose idiosyncrasies become
one with their charm. Her work is in top form here, as her eloquent
characterizations carefully emerge out of scenes of mostly mundane action. Just
as the play's scenes take place between movie screenings, much of Baker's story
lives in the silences between dialogue.
All three actors are exceptional, distilling their
performances with equal parts humor and heart. In a play much about perception
and people often overlooked, one moment characters may seem easy to peg and the
next they surprise us with an unexpected personal insight. All three performers
navigate this dynamic with a comfortable ease that's a pleasure to watch.
Weighting silent moments with unspoken meaning is one of
director Sam Gold's greatest strengths, but it also contributes one of the
production's lone disabilities. Clocking in at just over three hours, it could
certainly stand to be tightened. Even slight adjustments in pace would quicken
the play's momentum and bring it down to more reasonable length.
Spending three hours these days in a movie theatre
isn't uncommon — and The Flick is
likely more interesting than most of the post-Oscar releases playing at a
multiplex near you. And at least it
comes with an intermission. 
Recent theatre features…
 'Hit The Wall' a New Play About the Stonewall Riots, Opens Off-Broadway: REVIEW
Amy Herzog's 'Belleville' Opens Off Broadway: REVIEW
Edie Falco Opens In 'The Madrid' Off Broadway: REVIEW
Zosia Mamet Opens in 'Really Really' Off Broadway:REVIEW
Fault Line Theatre's 'From White Plains' Opens Off-Broadway: REVIEW
Follow Naveen Kumar on Twitter: @Mr_NaveenKumar (photos: joan marcus)