Last week the world learned that Jon Hamm's massive trouser snake is a big distraction on the set of Mad Men.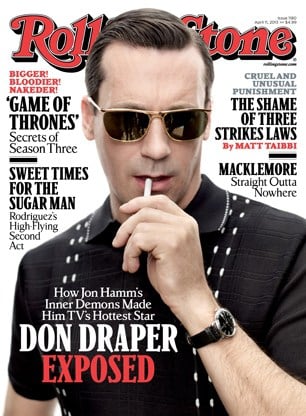 Underwear companies reportedly see a hefty opportunity in Jon Hamm's pants, TMZ reports:
The undie brands gunning for Jon's crotch are Fruit of the Loom and Jockey — which both reached out to Hamm after reports surfaced that "Mad Men" producers asked Hamm to stop going commando on set because his dong was visible through his clothes.  TMZ has learned … both companies have reached out to Hamm in the hopes of remedying the alleged problem … with FREE UNDERWEAR FOR LIFE!!!
A rep for Jockey told us … "Jockey would like to offer our support for Jon Hamm in the form of a lifetime supply of Jockey underwear. "
Jon Hamm is not amused by the hoopla, and expressed that to Rolling Stone in its new issue:
"Most of it's tongue-in-cheek but it is a little rude. It just speaks to a broader freedom that people feel like they have – a prurience…They're called 'privates' for a reason. I'm wearing pants, for f–k's sake…Lay off….I mean, it's not like I'm a f**king lead miner. There are harder jobs in the world. But when people feel the freedom to create Tumblr accounts about my c**k, I feel like that wasn't part of the deal [of fame]."