Wikileaks soldier Bradley Manning's 1 hr and 7 minute speech to a military court was leaked by the Freedom of the Press Foundation today and posted as a Soundcloud file by Buzzfeed, along with an edited clip of Manning describing a 2007 video he gave to Wikileaks and the reasons he did so.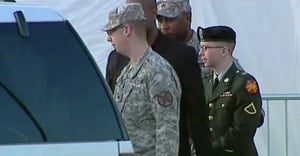 Says Manning in the latter clip:
"At first I did not consider the video very special, as I have viewed countless other war porn type videos depicting combat. However, the recording of audio comments by the aerial weapons team crew and the second engagement in the video of an unarmed bongo truck troubled me …
It was clear to me that the event happened because the aerial weapons team mistakenly identified Reuters employees as a potential threat and that the people in the bongo truck were merely attempting to assist the wounded. The people in the van were not a threat but merely "good samaritans." The most alarming aspect of the video to me, however, was the seemly delightful bloodlust they appeared to have."
Watch and listen to the above-referenced clips, AFTER THE JUMP…
The Freedom of the Press Foundation (FPF), the group I recently helped found and on whose board I sit, has received a full, unedited audio recording of the one-hour statement Manning made in court two weeks ago, and this morning has published that recording in full. In that statement, Manning details at length what he did and, more important, the reasons he chose to do it. I'm personally unaware of who made the recording and am not aware of how it was made, but its authenticity has been verified. Last week, the superb independent journalist Alexa O'Brien, who has covered the proceedings from start to finish, created the best transcript she could of Manning's statement, which was published, among other places, in the Guardian. But this audio recording provides the first opportunity to hear Manning, in his own voice, explain his actions; that, presumably, is why whoever recorded Manning's statement risked violating the court-martial rules to do so.
The unofficial transcript is also posted here.