Hong Kong's new Equal Opportunities Commission chief promises to do away with anti-discrimination, the South China Morning Post reports: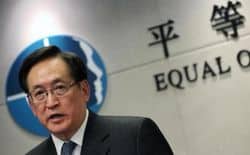 "I am a Christian and considered a liberal-minded Christian. I [believe] … no one should be discriminated against because of their sexual orientation," Chow told the South China Morning Post.
"The community's understanding and perception of this topic is diverse and sometimes even polarised. More education, discussion, debate, gathering of views and data on discrimination is necessary to build a community consensus," he said.
Chow was responding to his critics for the first time since his appointment was announced on Tuesday. Many fear his religious beliefs will hold back the commission's work on advancing gay rights in Hong Kong.
Human Rights Monitor director Law Yuk-kai said it was important that the head of the anti-discrimination watchdog had the drive to uphold and advance equality and rights, regardless of their religious beliefs. But Law said there had been no evidence Chow was committed to upholding those rights, based on his track record as health minister.