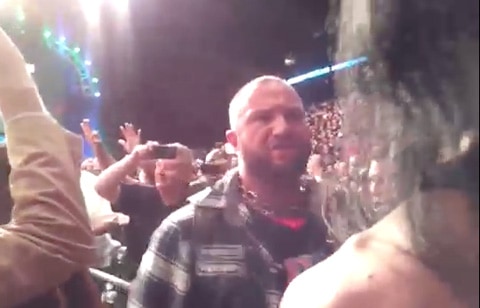 Pro wrestler and TNA world heavyweight champion Bully Ray apologized yesterday for spewing homophobic slurs at a fan after a match in Chicago earlier this week. Bully Ray, aka Mark LoMonaco, is featured on Total Nonstop Action Wrestling (TNA) which airs on Spike TV.
Said the wrestler on Twitter:
"Had a very positive talk with the man I got into a verbal altercation with in Chicago. I personally apologized for my careless choice of words and my ignorance with regard to certain slurs I used. I take full responsibility and once again I apologize to all.
Here's what he said:
"Sit down, faggot. Yeah… [inaudible for a second]. What are you gonna do? You ain't gonna do a damn thing. You got punked in your own frickin' town. I'm punkin' you out in front of [Bully leans to the side, looks at who's sitting next to the fan, and says], I'm gonna say your daughter. You got punked! You invented fags, you fag. You should've did something already, you should've did something already, but you ain't doing nothing'. I'm punking you in front of your hometown. You frickin' queer. You shave your frickin' chest."
A TNA official said "this will not be tolerated" but there is no word of what kind of discipline might be meted out.
Watch it on video, AFTER THE JUMP…