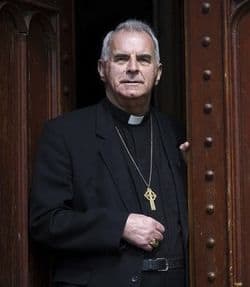 Former Scottish Cardinal Keith O'Brien, the outrageously anti-gay crusader who stepped down after being accused of "inappropriate acts" with other priests, admitted today that, yes, he did all of the things he denied only a week ago, including coercing subordinates into sexual situations.
His statement:
In recent days certain allegations which have been made
against me have become public. Initially, their anonymous and
non-specific nature led me to contest them.

However, I wish to take this opportunity to admit that there have
been times that my sexual conduct has fallen below the standards
expected of me as a priest, archbishop and cardinal.

To those I have offended, I apologise and ask forgiveness.

To the Catholic Church and people of Scotland, I also apologise.

I will now spend the rest of my life in retirement. I will play no
further part in the public life of the Catholic Church in Scotland.
Considering the amount of time O'Brien spent spreading lies about gay people and fighting LGBT rights, is an apology enough?