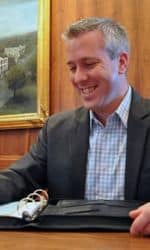 Chris Anderson, a candidate for City Council District 7 in Chattanooga, Tennessee, has won his election, making history as the first openly gay candidate to be elected there, the Victory Fund reports:
The lifelong Chattanooga resident has been active in Democratic politics and area community groups for years, once serving as the national executive vice president of the Young Democrats of America.
"We are thrilled for Chris and for the people of Chattanooga, who will benefit from his passion, drive and leadership skills.  This is also a huge victory for the LGBT community in southeast Tennessee, who finally have an authentic voice for equality in government," said Chuck Wolfe, president and CEO of the Victory Fund.