Former Polish President and Nobel Peace Pize winner Lech Walesa stands by his remarks earlier this week that gays should be "behind a wall", CNN reports: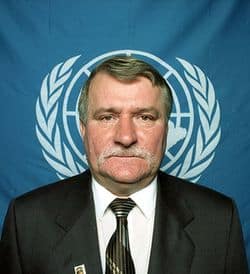 A devout Catholic and father of eight children, Walesa now says he has nothing to apologize for despite a mountain of criticism heaped upon a man who was once venerated as a champion of Polish liberty. He stressed he did not "feel homophobic."
"I will not apologize to anyone," the former president said in an interview Monday. "All I said (was) that minorities, which I respect, should not have the right to impose their views on the majority. I think most of Poland is behind me."
Since his comments went nationwide, Walesa has been on the receiving end of furious criticism.
"Why does Lech want me to sit in the back row?" asked Robert Biedron, a member of parliament from the opposition Palikot Movement and Poland's first openly gay politician. "If we accept the rules proposed by Lech Walesa then where would blacks sit? They are also a minority. And what about the disabled?"