CNN contributor Roland Martin, who was suspended last year over a series of homophobic tweets during the Super Bowl, one in which he mocked men who wear pink, and another in which he advocated violence toward men attracted to men (specifically, male fans of David Beckham), is being let go.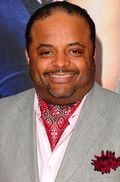 Said Martin to a follower on Twitter,  "Yes, last day at @cnn is April 6," adding, to another, "new boss (Jeff Zucker) wants his own peeps".
Martin met with GLAAD over his anti-gay remarks in late February and after the questionably productive meeting issued a non-apology apology, touted his support for lifting the 'Don't Ask, Don't Tell' policy,gay adoption, and including gays in hate crimes laws, and then gave what might be perceived as a warning that he'd possibly be speaking out in ways that gays might not like in the future:
"I have no plan to abandon my goal as a truth teller on a variety of issues; and, yes, that includes those that may be on the LGBT agenda."