A parliamentary committee in Finland, the only Scandinavian country without same-sex marriage, rejected a marriage equality bill earlier this month.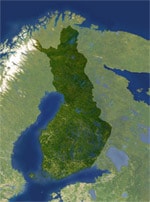 The people won't have it:
A drive to gather the 50,000 signatories required to take a gender-neutral marriage bill to parliament reached its target in just one day. The accumulation of the required support means that lawmakers must now consider a bill which was previously blocked at the committee stage.
Members of the public rushed to support the "I Do 2013" campaign, which was launched Tuesday to gather the 50,000 signatures required to compel parliament to consider legalising same-sex marriages.
Public enthusiasm for the petition was so great that the civic proposal website kansalaisaloite.fi crashed as a result of the overwhelming demand.