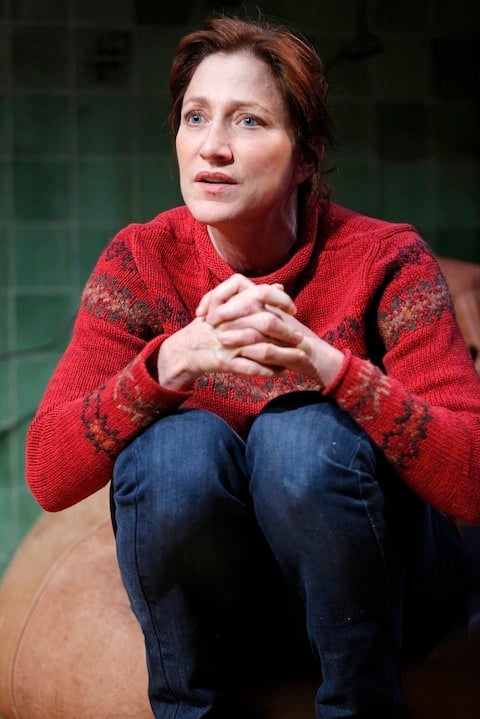 BY NAVEEN KUMAR
Edie Falco has more than a knack for playing unusual mothers.
From her iconic portrayal of mob matriarch Carmela Soprano, to her title role
as a high-functioning addict in Showtime's Nurse
Jackie—she has an exceptional way of bringing nuance to maternal characters
who might seem despicable were she any less, well, Edie Falco. She's on stage
giving just such a performance in The
Madrid, a new play by Liz Flahive that opened Off Broadway Tuesday at
Manhattan Theatre Club's City Center Stage I.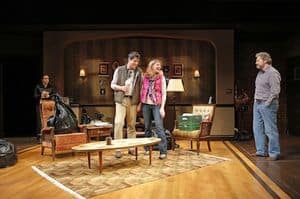 In its opening scene, Falco's character Martha, a
primary school teacher, holds up students' drawings of their families and reads
aloud their sweet, simple descriptions. One restless little girl pops up in front
and asks Martha about her own family: Do you
have a little girl? Yes, she answers, but her daughter is grown up and not so
little anymore. Martha then offers the girl her seat at the head of the class,
and walks out—leaving her classroom, her family, and her life behind.
Flahive's play follows the impact of Martha's sudden disappearance
on her daughter Sarah (Phoebe Strole) and her husband John (John Ellison
Conlee), as well as the curious life Martha chooses for herself—namely, one free
of obligation and responsibility. The only moment missing from the opening
scene is Martha tearing up a family portrait on her way out the door.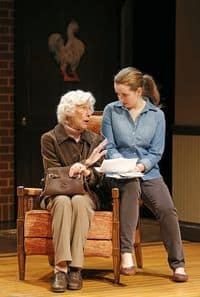 Martha's friend Becca and her husband Danny (Heidi Schreck
and Christopher Evan Welch, both excellent) divert themselves from their own
domestic troubles by focusing their attention on the abandoned Sarah and John. Frances
Sternhagen is a treat as Martha's mother Rose, whose wit remains sharp though
her mind shows signs of fading. She's the only one who seems to know her
daughter won't be coming back unless someone goes out and drags her back.
Martha eventually reaches out to her daughter, and the two
see each other in secret—it turns out she's living in a dingy Chicago apartment
building 'the Madrid,' just a little ways away from her family in the suburbs.
Still, her daughter's demands for an explanation go benignly unanswered—her
mom's not having an affair, or really up to anything in particular, just
escaping her life.
Also a writer on Nurse
Jackie, Flahive dispenses smooth, snappy dialogue with an easy hand. Director
Leigh Silverman, who collaborated on the playwright's debut From Up Here, also at MTC, has a
similarly light touch and excels in drawing out a natural rapport between
characters. However, the play's natural clip often keeps it hovering over the
psychological depths it hopes to explore, rather than really delving into them.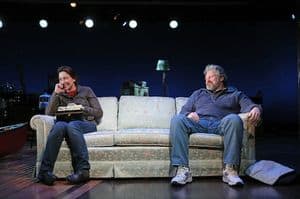 The Madrid begins with the mystery of Martha's
departure, laying out expectations for a reveal that never comes. Holding out
that promise, the play maintains a certain level of suspense while its central
theme—that family ties chafe as well as bind—comes slowly into focus.
Ultimately, this doesn't exactly come as groundbreaking news, and by the end
there's a lingering taste of frustrated hope at having been denied that which
was promised. Then again, maybe that's exactly the point. 
Recent theatre features…
Zosia Mamet Opens in 'Really Really' Off Broadway:REVIEW
Fault Line Theatre's 'From White Plains' Opens Off-Broadway: REVIEW
Tectonic Theatre Project Presents 'The Laramie Project Cycle' At BAM: REVIEW
Ethan Hawke Opens in 'Clive' Off Broadway: REVIEW
Martin Moran's 'All The Rage' Opens Off Broadway: REVIEW
Follow Naveen Kumar on Twitter: @Mr_NaveenKumar (photos: joan marcus)