Like Joy Behar, Elisabeth Hasselbeck is reportedly leaving The View. However, it may not be of her own volition.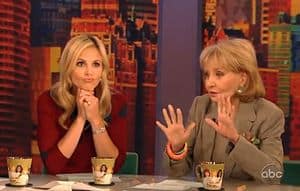 US Weekly reports:
According to the source, the show's resident conservative voice is being ousted after market research revealed that she isn't popular with TV audiences.
"The viewers they polled all said she was too extreme and right wing," the insider tells Us. "People did not watch the show because of Elisabeth. So they told her yesterday her contract would not be renewed."
When reached for comment, a rep for the show told Us in a statement: "Elisabeth Hasselbeck is a valued member of The View and has a long term contract."
Meanwhile, Brooke Shields is rumored to be joining the table.