A toxin found in bee venom has been found to be successful in killing HIV, raising hopes for a gel that could deliver it to infected cels via nanoparticles.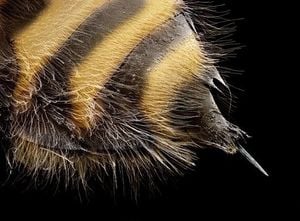 "Our hope is that in places where HIV is running rampant, people could use this gel as a preventive measure to stop the initial infection," says Joshua L. Hood, MD, PhD, a research instructor in medicine. The study appears in the current issue of Antiviral Therapy.
Bee venom contains a potent toxin called melittin that can poke holes in the protective envelope that surrounds HIV, and other viruses. Large amounts of free melittin can cause a lot of damage. Indeed, in addition to anti-viral therapy, the paper's senior author, Samuel A. Wickline, MD, the J. Russell Hornsby Professor of Biomedical Sciences, has shown melittin-loaded nanoparticles to be effective in killing tumor cells.
The new study shows that melittin loaded onto these nanoparticles does not harm normal cells. That's because Hood added protective bumpers to the nanoparticle surface. When the nanoparticles come into contact with normal cells, which are much larger in size, the particles simply bounce off. HIV, on the other hand, is even smaller than the nanoparticle, so HIV fits between the bumpers and makes contact with the surface of the nanoparticle, where the bee toxin awaits.
"Melittin on the nanoparticles fuses with the viral envelope," Hood says. "The melittin forms little pore-like attack complexes and ruptures the envelope, stripping it off the virus."
How does one collect bee venom?
A helpful video, AFTER THE JUMP…