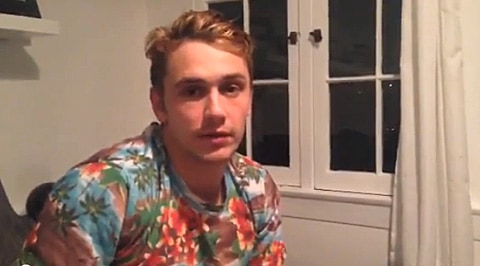 Last month I reported that Australian censors had banned filmmaker Travis Mathews' film I Want Your Love because of its explicit scenes of gay male sex. Mathews film was scheduled for a tour of LGBT film festivals around Australia in cluding the Melbourne Queer Film Festival, Sydney's Queer Screen, and the Brisbane Queer Film Festival.
The Age reported:
"Melbourne Queer Film Festival director Lisa Daniel says that in her 15 years at the festival, I Want Your Love is the first film that has been refused an exemption. It has been seen in many festivals around the world, and its distributors have told her this is the first time it has been banned. Mathews is a well-known filmmaker, and the decision is an embarrassment for Australia, she says."
Mathews is also James Franco's collaborator on the upcoming film Interior. Leather Bar inspired by William Friedkin's iconic film Cruising. Now, Franco is speaking out in a new video against the Australian censorship.
Says Franco:
"Frankly, adults should be able to choose. They're not going in blind. I don't know why in this day and age something like this, a film that is using sex not for titillation but to talk about being human, is being banned. It's just embarrassing."
Watch, AFTER THE JUMP…