Bruce Carroll, who blogs at the conservative site GayPatriot, says he's exploring a primary challenge to Senator Lindsey Graham, the National Review reports: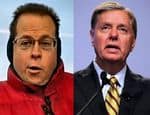 If Carroll goes forward with this, he will have to complete a Statement of Intention of Candidacy (SIC) form with the state GOP and a Statement of Economic Interest (SEI) form with the State Ethics Commission. The filing period does not begin until March 16, 2014, and closes March 30.
He will have to submit a filing fee of 1 percent of the annual salary of the office multiplied by the number of years in the term of office (or $100, whichever is greater). This year the salary for a U.S. senator is $174,000, so if it remains the same for 2014, the filing fee will be $10,440.
(via jmg)