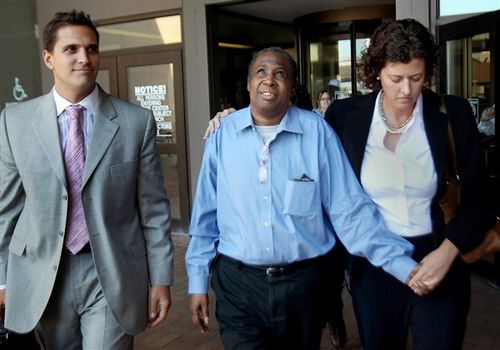 (image marvin fong the plain dealer)
David Ayers, 56, spent 11 years in prison for a murder he didn't commit, the Cleveland Plain Dealer reports:
At the time of his 1999 arrest, Ayers had been working for more than eight years as a security officer with the Cuyahoga Metropolitan Housing Authority. He was accused and eventually convicted of the beating death 76-year-old Dorothy Brown, who lived in a CMHA high rise in Cleveland.
Ayers continued to maintain his innocence, filing appeals while serving a life prison term for aggravated murder. He finally prevailed in 2011, when DNA tests proved that a single pubic hair found in Brown's mouth did not come from him.
The lawyers representing Ayers in the civil rights lawsuit argued that anti-gay sentiments caused the two detectives to frame their client for the slaying despite evidence that Brown also had been sexually assaulted.
The 11-member jury, some of whom wept as the verdict was read, reached their decision after four days of testimony and one day of deliberation.