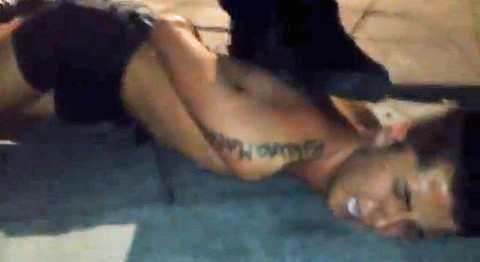 Sydney's police commissioner says a teen seen being arrested with excessive force in a video shot during Saturday night's Mardi Gras festivities had sworn at police, the Sydney Morning Herald reports:
Mr Murdoch told reporters on Wednesday afternoon that the initial offence that led police to apprehend Mr Jackson was for offensive language. Mr Jackson was then charged with assaulting police and resisting arrest as a result of his interaction with the Fairfield officer and he will appear in court on April 1.
The state MP and gay rights campaigner, Alex Greenwich, said it was very concerning that a large police officer ''body slammed'' a teenage boy for swearing.
''If the only thing that the individual did was use offensive language, then I think many would agree that the approach the police took to the situation and the body slam on the ground is certainly a heavy-handed approach to the matter,'' he said.
…Mr Greenwich and the Mardi Gras board will meet with the Police Minister, Michael Gallacher, and the chair of this year's Mardi Gras, Peter Urmson, said: "We're not gonna let this get swept under the carpet".
Mr Murdoch said the officer from Fairfield was still on duty pending an internal investigation.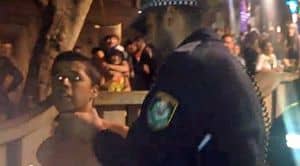 Also troubling is the arresting officer's order to the person filming to stop.
The video now has nearly 700,000 views and has provoked anger around the world.
Sydney activists groups are planning a march this Friday night and demanding an independent inquiry:
We are calling for everyone to meet at Taylor Square on Friday night to march to the Surry Hills Police Station to demand justice. Please join us! Urgent action is needed. We are peaceful protesters objecting to police violence.
A witness at the scene with her two teenaged sisters says the violent actions of the officers involved left her younger siblings seriously traumatised.
"They were crying while the police bashed the boy's head into the cement," she said. "It was horrible, disgusting behaviour."
We demand an end to police violence against the LGBTI community and a full apology to Jamie Jackson and Bryn Hutchinson, and all victims of brutality at Mardi Gras 2013.
More than 1500 people have responded to the march's page on Facebook.