The Great Gatsby to open Cannes Film Festival.
LDS Church working on LGBT non-discrimination bill in Utah?
Well here's a pretty sight.
Tom Hardy and a puppy in a sweater.
Former HRC President Elizabeth Birch on Clinton's DOMA reversal: "The bottom line is that the politics of DOMA in 1996 were admittedly tough and painful for all of us, but the FMA was simply not a threat at that time…I do believe the President could have survived a veto. He simply chose not to test history. So, my point is this: While President Clinton could not fully rise to that moment in history, he could at least now report it accurately."
Cheyenne Jackson replaces Sean Hayes in indie feature 6 Dance Lessons in 6 Weeks.
White House Press Secretary Jay Carney not sure if Obama plans to specifically lobby Congress on ENDA this week on his visit to Capitol Hill: "I think he'll talk about some of the issues that I laid out, maybe not all of them, and I'm sure there'll be other topics that he'll raise," Carney said. "But I don't have a specific agenda for him."
Twelve states that will probably legalize same-sex marriage by 2014.
Stream the new Hurts album.
UK X Factor finalist Christopher Maloney comes out as gay: "Do you know what, I'm going to admit it – yeah. Honestly, I've never denied it or anything like that. It's just that with the show it was always an inappropriate time or people just asked inappropriate questions."
Frank Ocean makes splash at Paris Fashion Week: "Instead of bejewelled Maison Martin Margeila face masks or man skirts, Frank gave Paris chic white shirts and woollen Dior garbadine pants (Frank also wore Dior to last month's Grammy's), Givenchy jersey, camo pants and P.A.M. T-shirts. And ('quelle horror!,' cried Kanye), just two pairs of Nike trainers."
Video: A new clip from Ryan Gosling's The Place Beyond the Pines.
Victoria Jackson wants to be on TV again: "My biggest talent is playing an airhead — a specific niche that can only be found in Los Angeles."
National Association for the Research and Therapy of Homosexuality (NARTH) loses tax exempt status.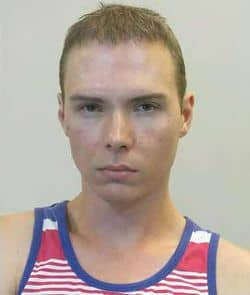 Attorney wants media banned from trial of Luka Magnotta: "Luc Leclair, Magnotta's chief counsel, argued that evidence presented in the case, if reported, could taint the jury pool and compromise the integrity of the trial. While a publication ban on that information has already been in place for months, Leclair  — citing a PostMedia report that he argued infringed the ban  — says the media, especially international outlets not necessarily beholden to Canadian law, could jeopardize his client's right to a fair trial, and should therefore be banned altogether."
Marriage rumors stir around Zachary Quinto.
Mumford & sons releases 4-in-1 video for "Whispers in the Dark".
Amazon.com renews $25,000 grant to Lambda Literary's Writers Retreat for Emerging LGBT Voices: "LLF's Writers Retreat is the only residency in the world established specifically for promising LGBT writers. For one rigorous, immersive week, Writers Retreat students in fiction, genre and young adult fiction, nonfiction or poetry will workshop their manuscripts, forge connections to publishing industry professionals and build a community of peers on whom they'll depend for years of encouragement, inspiration and friendship."