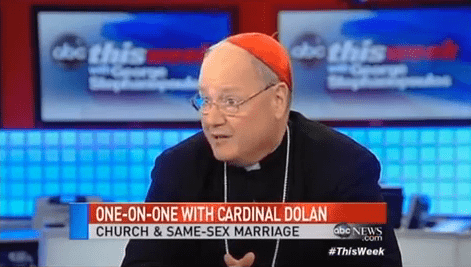 ABC's This Week host George Stephanopoulos asked guest Cardinal Timothy Dolan how he would respond to Catholic gays and lesbians who want to get married in the Catholic Church.
Dolan, who claims the church "is not an anti-anybody," replied:
"Well, the first thing I'd say to them is, 'I love you, too. And God loves you. And you are made in God's image and likeness. And – and we – we want your happiness. But – and you're entitled to friendship.' But we also know that God has told us that the way to happiness, that – especially when it comes to sexual love – that is intended only for a man and woman in marriage, where children can come about naturally. We gotta be – we gotta do better to see that our defense of marriage is not reduced to an attack on gay people. And I admit, we haven't been too good at that."
Watch the clip, AFTER THE JUMP.