This year's Conservative Political Action Conference had barred gay groups Log Cabin Republicans and GOProud from officially participating. They're still not, but…
The Washington Post's Jennifer Rubin reports: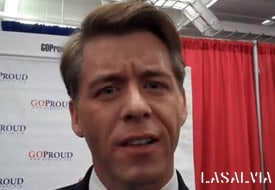 A sponsor for the upcoming CPAC gathering, the Competitive Enterprise Institute, will use a room assigned to the free-market conservative think tank to conduct a pro-gay rights panel titled, "A Rainbow on the Right: Growing the Coalition, Bringing Tolerance Out of the Closet." CEI spokesman Brian McNicoll says via e-mail, "As a sponsor, CEI gets use of a room for two hours." For the "Rainbow on the Right" panel, McNicoll tells me that Fred Smith, a CEI head, is moderating. Liz Mair, Jonah Goldberg, Margaret Hoover and Jimmy LaSalvia of GOProud are all confirmed.
Added Rubin:
CEI did not disguise its intentions from the CPAC organizers, who have been roundly criticized for excluding prominent conservatives such as Govs. Bob McDonnell and Chris Christie, as well as GOProud. McNicoll says, "We turned in the name [of the panel] and chose it so there could be no doubt what we were trying to do." He says that there was "complete radio silence," and the session was put on the schedule.
CPAC takes place on March 14-16 in D.C..