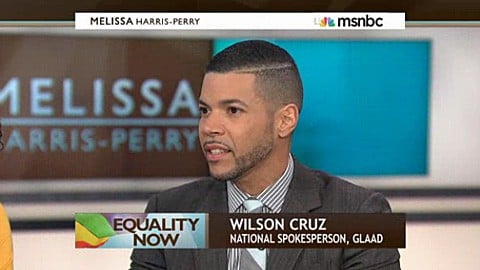 On a panel on Sunday's Melissa Harris-Perry on MSNBC, GLAAD's Wilson Cruz joined author and advocate Janet Mock and Mel Wymore, a community activist and Democratic candidate for New York City Council, to talk about GLAAD and an announcement made by President Herndon Graddick at the recent GLAAD awards that the organization would be altering its mission statement to add a focus on transgender defamation and equality.
"The organization has formally dropped the words 'Gay & Lesbian Alliance Against Defamation' from its name and will be known going forward as simply GLAAD, the LGBT media advocacy organization," it reports:
"It is a natural progression that reflects the work GLAAD's staff is already leading," said Cruz. "We respect and honor the full name that the organization was founded with, but GLAAD's work has expanded beyond fighting defamation to changing the culture. Our commitment to marriage equality, employment nondiscrimination, and other LGBT issues is stronger than ever, and now our name reflects our work on transgender issues as well as our work with allies."
GLAAD will continue a broad range of important media work, from holding the media accountable for coverage of LGBT issues, to elevating the important LGBT stories that make headlines and ultimately inform the conversations that are happening at dinner tables, in boardrooms, and schools around the country. GLAAD also reaffirmed its commitment to combatting the misinformation and hateful rhetoric that anti-LGBT activists like the Family Research Council's Tony Perkins put forth through the media.
Watch the Melissa Harris-Perry segment, AFTER THE JUMP…
Visit NBCNews.com for breaking news, world news, and news about the economy