BY NAVEEN KUMAR
How do you go about staging landmark riots considered the birth
of the LGBT civil rights movement? Landing
your play a stone's throw from Stonewall Inn, at an Off-Broadway theatre
known for its spare, intimate and emotionally raw productions seems pretty much
the perfect place to start. In Hit The Wall, which opened Sunday at the
Barrow Street Theatre, playwright Ike Holter also throws in a lot of heart, kinetic
rage, and sass talk so fast it spins into poetry.
New York City, June 27th, 1969—it's hot as hell, the
air is thick with civil unrest, and Judy Garland's funeral draws thousands of loyal
fans to the Upper East Side. Downtown, it's just another smack-talking morning
on the neighborhood stoop, where sharp-tongued young hustlers Mika and Tano
(Gregory Hanley and Arturo Soria, imposingly fierce) read every unwelcome queen
who steps onto their turf.
There's Roberta (Carolyn Michelle Smith) the righteous black
lesbian, shunned equally by the women's movement and the Black Panthers, pounding
pavement trying to start her own revolution. ("Get your a** back to Sarah
Lawrence, girl, MOVE.") 'The Newbie'—buttoned-up, naïve, and mostly in the
closet. ("This is our stoop, this is our spot, you don't like the pot then
spit out the smoke and cough.")
Mika and Tano meet their match in Carson (Nathan Lee Graham)
a seasoned (and by the end of the night, legendary) cross-dressing black diva,
who serves them a read so fast and furious their limp tongues snap to the back
of their heads. More than just delicious high-camp, Holter makes clear that these queens' vicious attitudes are part of a carefully honed defense against a harsh world. That they reserve the worst of it for each other shows the contentiousness among a splintered group
of outcasts not yet thinking of themselves as a group.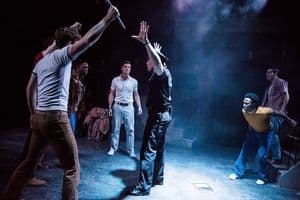 Though they are of course anything but typical, Holter's
cast of characters each stand in for a sort of type—including Cliff (Ben
Diskant) a draft-evading drifter, and the unnamed 'A-Gay' (Sean Allan Krill),
all business suits and discretion. That most of the characters introduced
during the day lack fleshed-out backstories seems exactly the point. By the
time they're all dancing in the dark at Stonewall, what matters is we know why
they're there—to drink, get laid, and not worry about hiding themselves.
Under Eric Hoff's dynamic direction, actions leading from
the sweltering day to that fateful night flow one into the next with all the
restless momentum and energy of a city street. The historic event is staged
with some concern for accuracy, as characters shout out what official reports
say happened next.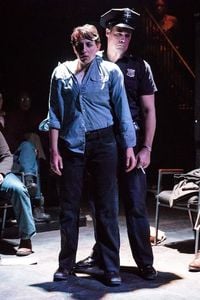 Holter's play doesn't shy away from showing horrifying
trials faced by transgendered patrons at the hands of police who raided the
bar. In a wrenching and intimate scene, Carson and Peg (Rania Salem Manganero)
are both held back as the bar is evacuated and brutally harassed by the play's
lone cop (an intimidating Matthew Greer).
The riot that follows is choreographed like something of a
wild dance. If it seems at moments to descend into theatrical chaos—well, it is
a riot, after all. Imagination deserves some rein, as reliable accounts of the
explosive events are difficult to come by—aside from those able to say, as
these bold characters do: "I was there."
Dragged out of the bar on her way to the back of a cop car,
it's Peg whose indignant cries rouse an initially complacent crowd into action:
"No more watching!" It's a welcome battle cry for any era.
Recent theatre features…
Amy Herzog's 'Belleville' Opens Off Broadway: REVIEW
Edie Falco Opens In 'The Madrid' Off Broadway: REVIEW
Zosia Mamet Opens in 'Really Really' Off Broadway:REVIEW
Fault Line Theatre's 'From White Plains' Opens Off-Broadway: REVIEW
Tectonic Theatre Project Presents 'The Laramie Project Cycle' At BAM: REVIEW
Follow Naveen Kumar on Twitter: @Mr_NaveenKumar (photos: matthew murphy)