Joy Behar is leaving The View, reports the Hollywood Reporter: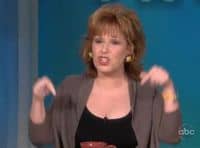 "Joy Behar has been instrumental in the success of The View from the very beginning," read a statement from ABC. "We wish her all the best in this next chapter, and are thrilled that we have her for the remainder of the season."
…Behar and Walters had seats at The View table with Meredith Vieira, Star Jones and Debbie Matenopoulos when the show premiered in 1997. Tweaks to the lineup along the way, most notably the firing of Jones and Rosie O'Donnell's controversial two-year stint as moderator, led to a current panel that includes Sherri Shepherd, Elisabeth Hasselbeck and Whoopi Goldberg.
Said Behar to Deadline: "It seemed like the right time. You reach a point when you say to yourself, 'Do I want to keep doing this?' There are other things on my plate I want to do — I've been writing a play, I've been neglecting my standup."