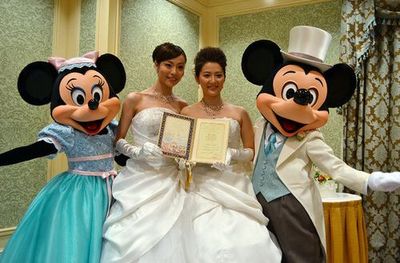 PHOTO OF THE DAY: Tokyo Disneyland hosts a lesbian wedding! 
BY SAM GREISMAN
A look back at today's top stories
GAY ISSUES
Sydney may be known for hosting a can't-miss party, but there was a shockingly violent incident of police brutality at the city's Gay and Lesbian Mardi Gras on Saturday that has people demanding an investigation. There was also a disturbing story of hate from right here on our home shores where a gay couple was apparently kicked out of a mall in California for kissing. One more reason to steer clear of malls. 
On the flipside there were a couple pro-gay rights stories making the rounds today. Carly Rae Jepsen has joined Train in backing out of the Boy Scouts Jamboree because of the group's discriminatory policies. And a DC Comics illustrator has decided not to do the artwork for homophobic sci-fi writer Orson Scott Card's Superman comic. 
**
ENTERTAINMENT
Anderson Cooper had Lisa Rinna on his show today and they discussed his GLAAD award and the gay icon who will present it to him. Staying with Cooper, in a preview for an upcoming episode of 60 Minutes Sports, Anderson takes a wild ride on the back of a jetski. Also check out the rocking trailer for Iron Man 3. 
**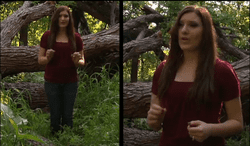 WINGNUTTERY
Uh oh, anti-gay haters have solved the problem of dwindling support! They're reaching out to the youths with this cool new thing called rap. That oughta get them! It's kinda like when an inner-city substitute gets through to their students by showing them that Shakespeare is just like Jay-Z. Also conservative freak Bill O'Reilly got one of his minions to harass Colorado's House Speaker and implied that he supports child molesters (because, you know, he's gay). 
**
VIDEO OF THE DAY
Attention San Francisco area residents! Starting tonight, and lasting for two years, the Bay Bridge will be one giant light show.