A judge has ruled in favor of London Mayor Boris Johnson in a case brought by a Christian group challenging Johnson's decision to ban "gay cure" ads from city buses, the Guardian reports: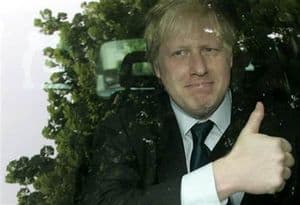 A judge found on Friday that Boris Johnson did not abuse his position as chairman of Transport for London (TfL) last April when he imposed the ban on the advert, which suggested that people could be cured of homosexuality.
The decision is a defeat for the Core Issues Trust, a Christian charity that funds "reparative therapy" for gay Christians, which it claims can "develop their heterosexual potential". They believe Johnson was "politically driven" when he intervened to block the ad.
The ad posters earmarked for the sides of the capital's buses read: "Not Gay! Ex-Gay, Post-Gay and Proud. Get over it!"
Johnson condemned the "gay cure" ad as "offensive to gays" and said it could lead to retaliation against the wider Christian community.
The judge agreed, though she said that Johnson's process "was procedurally unfair, in breach of its own procedures and demonstrated a failure to consider the relevant issues".
The judge also allowed an appeal, but said she thought it didn't have much of a chance.