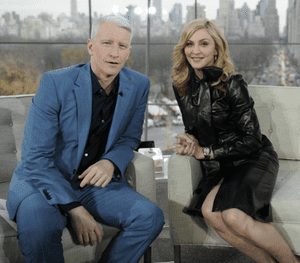 Madonna will be in the house at 24th annual GLAAD Media Awards March 16th, when the queen of pop will present journalist Anderson Cooper with the Vito Russo Award for his tireless work toward full equality.
GLAAD President Herndon Graddick said in a statement, "By sharing his own experiences as a gay man, Anderson has reminded millions of Americans that LGBT people are part of their everyday lives and an integral part of our cultural fabric. He continues to raise the bar and set a new standard for journalists everywhere, and I'm proud to call him a friend."
Despite all his wonderful work, Cooper may very well be upstaged by Madonna, who has been fighting discrimination, ignorance and hate for years and whose presence will GLAAD, Cooper and hosts Lara Spencer, Josh Elliott, and Sam Champion get their point across. If anyone can make people pay attention, it's Madonna. She takes no prisoners.
"From speaking out against bullying to raising support for marriage equality, Madonna has always been one of our community's strongest allies. We are honored to have her stand with GLAAD and Anderson Cooper," said Graddick.
Cooper will receive his award on March 16 in New York City.