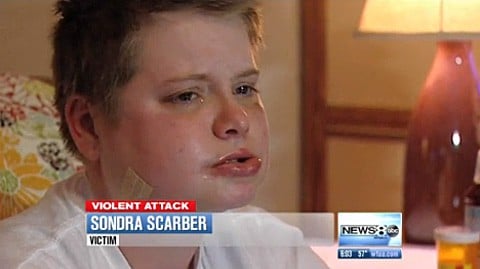 A Texas woman is recovering after enduring a severe anti-gay assault at a school playground which left her unconscious, WFAA reports:
Scarber is grateful simply to be alive. She said she was attacked at an elementary school playground for protecting a bullied four-year-old boy. The scuffle between children, however, quickly escalated into violence among adults, Scarber worries, because she is a lesbian.
"She was just helping him, defending him from a big kid, and this is what happened to her," said Scarber's girlfriend and the boy's mother, Hillary Causey.

The couple had taken Causey's son, Jaxon, to the playground at Mesquite's Seabourn Elementary on Feb. 17. Shortly after arriving at 2:30 p.m., though, the couple said some older children began pushing Jaxon around.
"Sondra said, 'Can you please keep your hands off of him, he's only four,'" Causey said.
The father became enraged, she said, when he realized Scarber, who wears baggy clothes and has short hair, is a woman, and that the two are lesbians. Friends since the third grade, Scarber and Causey have been girlfriends for three years. They're raising Causey's young son together.
"When he walked up thinking it was father and mom with the kid, he wasn't as angry," said Causey, 26, "but then when he figured out it was a female, he got like super pissed, and I don't know why."
She said the man punched and kicked Scarber repeatedly, hurling homophobic slurs at her while she lay on the ground, unconscious.
Watch a news report and interview with Scarber, AFTER THE JUMP…
While the women insist the attack was inspired by their sexual orientation, the police are not convinced it meets the definition of a hate crime, since it wasn't the original trigger for the fight.
They are searching for the attacker: "Officers insist they are looking for a black man, about 5'7", who weighs 185 pounds. He was wearing a royal blue T-shirt and jeans, and was driving an early 2000's silver Chevrolet Impala with temporary tags. Police say he was with a black woman, about 5'5", 140 pounds, wearing a white T-shirt and jeans."