Ivory poachers slaughter 86 elephants in massacre in Chad.

Astronomers predict comet coming in November could be bright as the Moon.

Lindsay Lohan's new mugshot joins portfolio of five others.

Puerto Rican government supports overturn of ban on gay adoption: "Puerto Rico's Supreme Court narrowly voted in February to uphold an island law banning adoptions by same-sex parents…Island Attorney General Margarita Mercado has now filed a motion in support of reconsideration. Mercado said the government of Gov. Alejandro Garcia Padilla favors eliminating unequal treatment based on gender or sexual orientation."

A tweet from President Obama yesterday.

CIA contracts Amazon to build spy cloud?

"Bathroom bill" before the state of Arizona: "The targets are transgender residents of Arizona. They would be committing a crime (a misdemeanor) by using the wrong bathroom with the wrong birth certificate. (Moms and dads would be allowed to bring opposite sex kids into the bathroom with them.)"

Democrats: sweeping gun control laws still a pipe dream.

Taylor Lautner's abs are waxed.

Nebraska actress planning to bring Uganda's first gay play to the U.S.

Princess Diana's dress she wore to dance with John Travolta purchased at auction: "An anonymous bidder purchased the midnight-blue velvet Victor Edelstein evening gown – the one that prompted Travolta to call Diana "the most beautiful woman in the room" – for more than $362,000 Tuesday at London's Kerry Taylor Auctions."

NYT: If doctors can identify them correctly, some HIV-positive people may be able to stop taking antiviral drugs.

Older gay man ponders being lonely and invisible, seeks advice from NYT civil behavior columnist Steven Petrow: "This isolation is partly explained by our community's extraordinary place in history. Many of us lost lovers, friends and family in the depths of the H.I.V./AIDS epidemic, so we find ourselves short on these lifelines just when we need them most."

Ginger beard: James McAvoy.

Ian McKellen to officiate at Patrick Stewart's wedding.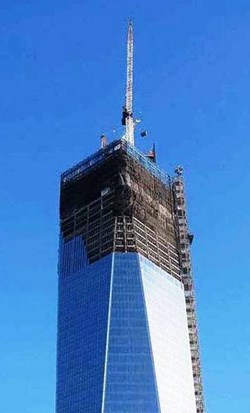 One World Trade Center observation deck previewed: "When the observatory opens more than 1,230 above Vesey Street in 2015, it will take its place among the highest decks in the nation, passing the one at the Empire State Building by a few feet but falling roughly 10 stories short of Chicago's Willis Tower Skydeck."

Matt Bomer recently spent 10 hours at the top of the Empire State Building: "At 5 in the morning it was brilliant; by 3 in the afternoon I was done. I'm not terribly acrophobic, but after about 10 hours up there, I was definitely ready to come down."

GLAAD: LGBT employees of the New York Post should be ashamed.

More lobbying to end the KissCam gay jokes.

Anti-gay marchers in Paris lose permit battle: "The group wanted to march down the Champs-Élysées next week just a couple of days before the US Supreme Court hears its cases. The cops said "Non!" and a Paris court agrees."

Marine biologists discover whale skeleton on Antarctic sea floor with nine new species living on it. "Samples also revealed several new species of deep-sea creatures thriving on the whale's remains, including a zombie worm known as Osedax burrowing into the bones and a new species of isopod crustacean, similar to woodlice, crawling over the skeleton."