At least 7 Cincinnati City Council members pulled out of city's St. Patrick's Day parade because of the parade's decision to ban the gay education group GLSEN.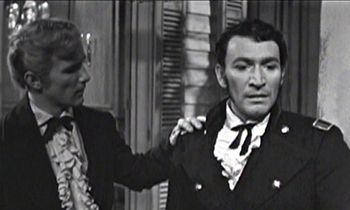 South, a 1959 ITV teleplay about a Polish soldier sent to the American south during the Civil War and starring tv star Peter Wyngarde, may be the first television program to feature an open discussion of gay attraction. "[Does he love] the plantation owner's angry niece, Miss Regina, or the tall, blond, rugged officer who arrives suddenly – a handsome man called Eric MacClure."

Awesome: "A church in Winston-Salem has announced it will stop performing all marriages until United Methodist pastors are allowed to officiate at marriages for same-sex couples."

The Odawa Indian tribe in Michigan legalized same-sex marriage and celebrated by uniting two men, Tim LaCroix and Gene Barfield, in marital bliss. The federal government, of course, will not recognize this lovely union or its historic significance.

"At CPAC, gay marriage on back burner"

Kitty knows how to keep warm.

"Faux fur" jackets Marc Jacobs' label sells at Century 21 are actually made of dog fur.

Kathy Bates joins the cast of American Horror Story season 3, which concerns witches and will officially be called American Horror Story: Coven. Expect to see plenty of scenes featuring Bates and Jessica Lange "going at it," says creator Ryan Murphy.

Justin Bieber will do whatever it takes to be butch.

New Games of Thrones season 3 international trailer features some new footage for those of you who need a fresh fix.

A run down of some of the politicians and other notable public figures who have reversed course and come out in favor of marriage equality.

The Boston Phoenix, an alt-weekly paper that has published since 1966, announced that it will close its doors. Susan Orlean, the New Yorker writer who got her start at the Boston Phoenix, told the Boston Globe, "It's like finding out your college has gone bankrupt and is gone. I am a
child of the alt-weekly world and I feel like it has played such an
important role in journalism as we know it today."

Here's a Facebook page encouraging you to change your Facebook profile picture to show you support marriage equality.

Research into how revive extinct creatures continues. So what will happen to the phrase "go the way of the dodo?"

Is fact action the key to slowing HIV's devastation? "Treating people with HIV rapidly after they have become infected with
the virus that causes Aids may be enough to achieve a 'functional cure'
in a small proportion of patients diagnosed early, according to
research."