Queen Elizabeth II will sign an historic pledge against discrimination that does not explicitly mention gay people but is being seen as a powerful gesture on gay and women's rights, the Daily Mail reports: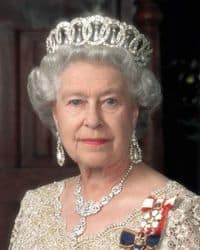 In a live television broadcast, she will sign a new charter designed to stamp out discrimination against homosexual people and promote the 'empowerment' of women – a key part of a new drive to boost human rights and living standards across the Commonwealth.
In her first public appearance since she had hospital treatment for a stomach bug, the Queen will sign the new Commonwealth Charter and make a speech explaining her passionate commitment to it.
Insiders say her decision to highlight the event is a 'watershed' moment – the first time she has clearly signalled her support for gay rights in her 61-year reign.
The charter, dubbed a '21st Century Commonwealth Magna Carta' declares: 'We are implacably opposed to all forms of discrimination, whether rooted in gender, race, colour, creed, political belief or other grounds.'
The 'other grounds' is intended to refer to sexuality – but specific reference to 'gays and lesbians' was omitted in deference to Commonwealth countries with draconian anti-gay laws.
The Queen is expected to say that the rights must "include everyone", according to the paper.
Also:
With the Duchess of Cambridge about five months' pregnant, the change in the law could have a crucial effect. At present, if, as is rumoured, the Duchess and Prince William have a daughter, but go on to have a son, the son would become King when William dies. However, under the law change, due to be approved in the next few months, the girl would become Monarch.